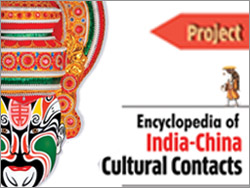 Inception
The idea of compiling an 'Encyclopedia of India-China Cultural Contacts' was mooted in the Joint Communiqué of the Republic of India and the People's Republic of China issued on December 16, 2010, during the Chinese Premier Wen Jiabao's visit to India.
Objectives
The objective was to bring the history of many centuries of India-China cultural contacts into the public domain, making it easily accessible to people of both the countries. In order to reinforce the approach of "connected histories" and to locate encounters and linkages that have facilitated the mutual enrichment and growth of the two cultures and societies, the focus of the encyclopedia was to be on:
i) Movement: people/ ideas/ objects,
ii) Interaction: nature and sites of interaction, and,
iii) Incorporation: processes of acculturation/ adaptation/reaction.
Being an initiative between the two Governments, it was expected to provide a much-needed boost to the effort to build popular consciousness of and confidence in the shared cultural experience of India and China. To that end on the Indian side, the Ministry of External Affairs decided to locate the project in the Institute of Chinese Studies (ICS).
Members of the Expert Committee
Prof. Sabaree Mitra of Jawaharlal Nehru University and Honorary Fellow of ICS was nominated the Chairperson of the Expert Committee.
Other members of the Committee were:
Prof. Madhavi Thampi of University of Delhi and Honorary Fellow of ICS
Prof. Kamal Sheel of Banaras Hindu University
Prof. Arttatrana Nayak of Visva-Bharati
Publication
The publication is available in the ICS library and links to the digital editions are available on the website of the Ministry of External Affairs. Read more