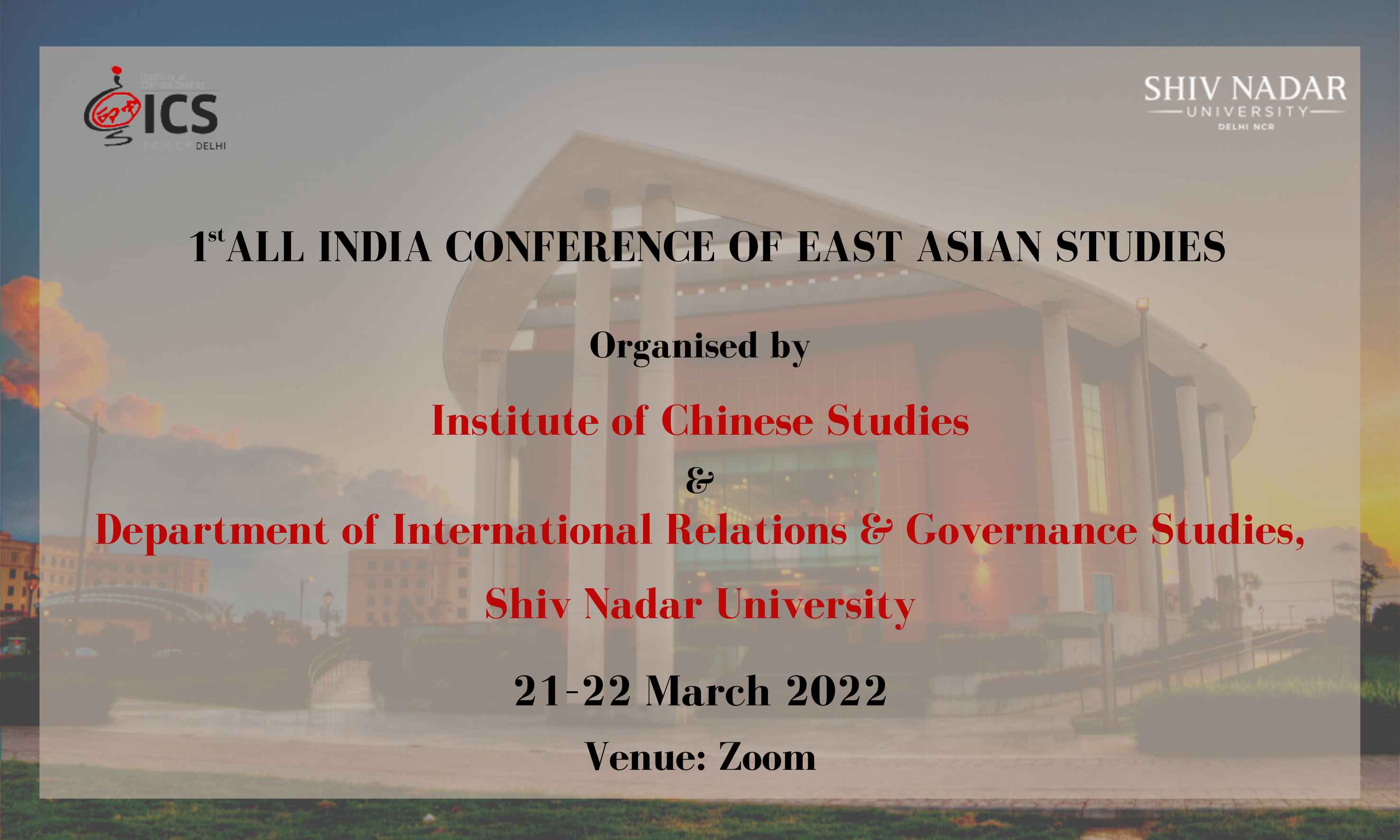 CALL FOR PAPERS

The Institute of Chinese Studies (ICS) is pleased to announce the 1st All India Conference of East Asian Studies (AICEAS)!
Since 2006, the ICS has held the All India Conference of China Studies (AICCS) in partnership with leading academic institutions across India. It brings together students, researchers, university faculty, practitioners and other individuals with an interest in China Studies to present and discuss their research in the field.
The principal objective of the All India Conference of East Asian Studies (AICEAS) is to foster interest in and strengthen research on East Asian Studies, primarily focusing on Japan, South Korea, North Korea, Mongolia and Taiwan. We also welcome papers related to Southeast Asia. The conference will be convened annually in collaboration with a leading Indian university/research organization across India.
The 1st AICEAS will be held in collaboration with the Department of International Relations & Governance Studies (IRGS), Shiv Nadar University (Delhi NCR) from 21-22 March 2022.

Notification for Extension of Deadline for Paper Submissions!
This is to inform all the authors that the deadline for the submission of full papers for the 1st AICEAS has now been extended to
6th February 2022.
Please submit your paper by the aforementioned deadline to
aiceas.ics@gmail.com
. If you have any queries or concerns, please write to us at
aiceas.ics@gmail.com
.
Deadlines
07 December 2021

:
Last date for receiving abstracts (250-300 words)
14 December 2021

:
Notification of shortlisted abstracts
6 February 2022

:
Last date for receiving full papers (5000-6000 words)
20 February 2022

:
Announcement of final papers
The best paper presented by a young & emerging scholar at AICEAS will be given the
GP Deshpande Award
with a prize money of Rs. 25,000/-. Selection will be made on the basis of methodology, argument and presentation. The selected paper will be published by ICS. Further relevant information will be posted in due course of time on the ICS website.
Dr. Sandip Mishra (Convenor)
Associate Professor, CEAS/SIS, JNU & Honorary Fellow, ICS
Dr. Jabin T. Jacob (Co-Convenor)
Associate Professor, IRGS, SNU
ICS

The 1st All India Conference of East Asian Studies (AICEAS) will be held virtually by the Institute of Chinese Studies (ICS), New Delhi and the Department of International Relations & Governance Studies
Venue: Zoom Webinar