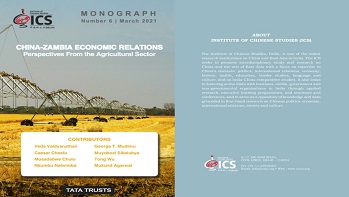 The 'China in the World' research programme at the ICS aims to demystify China's place in the World and understand the granular details of its increasing global footprint. To this end, in 2018, Dr. Veda Vaidyanathan at the ICS began analysing the quickly evolving dynamics between China and countries in Africa, with funding from TATA Trusts. The first project under this series examined Chinese infrastructure development in Tanzania and Kenya. This research project, adopted a case study method and involved a multi-cultural team which conducted extensive fieldwork and generated primary data.
This is the second research project under this series and it was designed at the ICS in 2019, with the aim of better understanding Chinese economic engagement in Zambia, especially examining the nuances of cooperation in the Zambian agricultural sector. A collaborative effort, this study brings to the fore voices of Indian, Zambian and Chinese scholars and experts based at multiple institutions across geographies with chapters written after extensive fieldwork. From providing an overview of China-Zambia economic relations, authors will also throw light on the diversity in China-Zambia agricultural cooperation, dynamics of skills transfer in agriculture, delve into specifics of a Chinese firm using Artificial Intelligence in agriculture while also discussing larger issues such as the growing fault lines in China-Zambia relations. This includes several socio-political challenges, the issue of mounting debt, visceral negative perception of the Chinese, a growing Chinese diaspora in Zambia among others.
China-Africa engagement becomes crucial to study from an Indian perspective on four major counts. One, as New Delhi presents itself as a viable alternative and partner to the African development effort, it is vital to learn about the instruments and tools of other actors in the region. Secondly, as Indian corporations, especially the SME's and entrepreneurs are increasing their investment portfolio across sectors and geographies in Africa, insights gained from evidence-based research and perspectives from the grassroots could inform their decision making. Three, with a young demography, untapped market potential and resources, Africa is going to be critical geography in the years to come, it is in India's interest to build individual and institutional collaborations with African thinkers, experts and scholars to gain cognizance of their aspirations and needs. Lastly, the current discourse on China-Africa relations is dominated by western institutions, it is vital that scholars from the developing world conduct rigorous research and contribute to this ongoing conversation. This ambitious project, designed and carried out by a small team, aims to do just that.