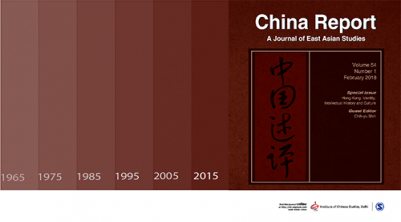 I Articles
---
An Introductory Note for the Articles
The Communist Party of China's transition from a revolutionary party to a ruling party has been accompanied by challenges to its legitimacy owing to issues of corruption and poor governance. As a result, the Party's leadership has time and again laid stress on discipline and unity on internal governance, in other words, as a way of overcoming its shortcomings. This article by Jabin T. Jacob and Bhim B. Subba looks at two approaches towards internal governance under current General Secretary Xi Jinping. The first, it argues, is a stress on the fervour and ideals of a past revolutionary era as the Party tries to reinforce its legitimacy to rule. The second is a strategy of greater control over the work of the state. Essentially, the Party is integrating the state ever closely with itself as a way of validating the effectiveness of its internal governance.
This article by Hoang The Anh reviews the ideology, guidelines, and policies of the Communist Party of China (CPC) on think-tanks and especially focuses on analysing Xi Jinping's policies towards them since the 18th Party Congress in 2012. Observing both the CPC's directives and the activities of some important think-tanks, this article finds that the relationship between the CPC and think-tanks in China has gotten increasingly closer. The closeness is reflected in indicators such as the CPC's promulgation of the policy to build 'a new type' of think-tank, increasing reliance on and appreciation for the advice of think-tanks, funding for official think-tanks, and frequent emphasis on the absolute leadership of the CPC over them. This is a typical model of the corporatism between the CPC and the state, market and social organisation in China.
This article by Binh Giang Nguyen examines the Communist Party of China's (CPC) policies toward agriculture from an institutional perspective. Mao Zedong viewed the peasantry as allies of the CPC, and in order to socialise rural areas, he ordered massive collectivisation, attempting to manage the countryside and peasants with people's communes and production brigades. Deng Xiaoping and Jiang Zemin responded to the dysfunction that followed with reforms and opening up, including the abolition of collectives and people's communes, liberalising agriculture, and promoting incentives for labour. This led to its own complications, and efforts later by Hu Jintao and Xi Jinping have been directed towards resolving the 'three rural issues' – of agriculture, rural areas, and farmers – in order to achieve a 'moderately prosperous society' and the 'great rejuvenation of the Chinese nation'. This article argues that while there is an emphasis on innovative policies and approaches, there is a lack of structural reforms owing to the CPC's wish to remain in control of rural areas and peasant life.
State-owned enterprises (SOEs), a key constituent of China's economy, are an important reference for analysing China's evolving state-market relations. Market-oriented reforms introduced in the SOE sector over the past four decades have seen the Communist Party of China (CPC) loosen its control over SOEs, shedding a large number of loss-making enterprises, and significant restructuring of remaining enterprises, including by public listing. But these achievements still fall short of making Chinese SOEs 'modern enterprises', and they continue to be extensions of the Chinese Party-state. Using Party documents, speeches and policy announcements, this article by Priyanka Pandit explores key changes and continuities in China's state-owned sector in the post-liberalisation era. It contends that the neoliberal turn in China's economic transition cannot be understood in the radical separation of state and market configurations but that reform and restructuring of SOEs have to be situated in a political-institutional landscape where multiple interests compete over the formulation of economic policy.
To combat the coronavirus epidemic, the city at the epicentre, Wuhan, China, was placed under strict lockdown in 2020 for 76 days. Unlike past emergency response situations in China, government-organised Residents' Committees (RC), property management companies, and other community institutions played an unusually prominent role in enforcing the lockdown, providing essential services, and maintaining public order. This article by Huan Gao explains the role of community institutions in emergency management in China through case studies of the 2008 earthquake in Chengdu, the 2016 flood in Wuhan, and later, the 2020 coronavirus outbreak. Drawing on databases of media reports and individual accounts, he argue that the administrative and coercive power of community institutions stems from their spatiality—from being embedded in gated residential communities, maintaining contact and familiarity with residents, and having control over physical structures. During earthquakes and floods, when the physical space that give community institutions power is changed and destroyed, the role of these organisations in emergency response diminishes. However, when facing an epidemic, in which structured physical space is not only unchanged but also reinforced, community institutions take the lead.
II Book Reviews
---