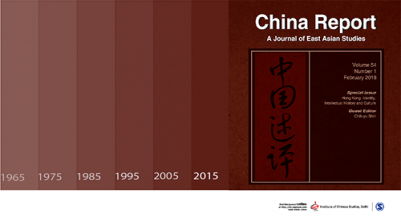 An Introductory Note for the Articles
Nagender S. P. Bisht, Rajeev Jain, and Victor Gambhir, in their article, examine the Three Warfares Strategy employed by the Chinese during the Doklam crisis, which was in full flow and all three components—public opinion/media, legal and psychological warfare—were unleashed on India. This article is based on Indian and Chinese government briefings and press releases, media both print and electronic of the two countries, social media, journals, government reports, and books of the two countries.

The article by Velpula Ramanujam and Manish S. Dabhade primarily deal with the question: How Rajiv Gandhi conducted summit diplomacy with China in 1988? The article traces the process through an analysis of archival work of private papers and diplomatic correspondence, oral history interviews, memoirs, and biographical works.

This article by Shabnam Dadparvar and Hamidreza Azizi addresses the question of what does China tries to achieve by expanding its soft power in Central Asia? The article argues that China has focused on the expansion of its soft power and the consolidation of cultural ties with the Central Asian countries to expand its influence in the region and, eventually, to rise as a new center of power in the international system.

This article by Aye Aye Khin, Fong Yi Chiun, and Lim Chee Seong is a conceptual review of identifying the factors of the successful implementation of the Belt and Road Initiative (BRI) on small-medium enterprises (SMEs) in Malaysia.

N. P. Ravindra Deyshappriya in his article examines recent trends in the economic relations between Sri Lanka and China focussing on trade, investment, and tourism dimensions. Although bilateral economic ties between Sri Lanka and China have strengthened over time, the article demonstrates Sri Lanka's low rank among China's economic partners.

By placing the trans-frontier wool trade of colonial India at the center of analysis, Diki Sherpa in her article seeks to highlight the material history that existed on its landed periphery. An attempt will be made to understand the emergence, pattern, and significance of India's trans-frontier trade with Tibet in the light of major geopolitical changes in this region and the world in the twentieth century. The article will argue that the channeling of trade through the Kalimpong–Lhasa route was driven by multiple colonial interests, as well as commercial considerations.
I Articles
---
II Book Reviews
---