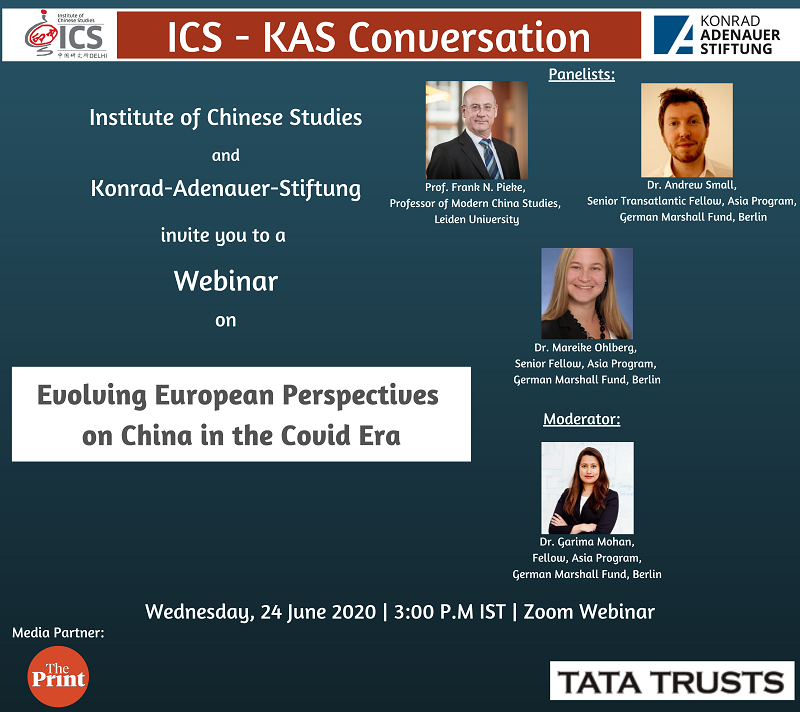 Abstract
European perceptions towards China were becoming more complex even prior to the outbreak of the novel coronavirus. The European Commission's document of 12 March 2019 on "EU-China - A Strategic Outlook" suggested that "China is, simultaneously, in different policy areas, a cooperation partner with whom the EU has closely aligned objectives, a negotiating partner with whom the EU needs to find a balance of interests, an economic competitor in the pursuit of technological leadership, and a systemic rival promoting alternative models of governance".
Over the last couple of years, postures in Europe vis-a-vis China have hardened, even while the latter's influence in the continent has been growing. In the Covid era, there has been sharpening of these anxieties and an added backlash on the issue of China's accountability for Covid-19 becoming a pandemic. At the same time, European countries appear to seek deep but more balanced engagement with China, avoiding the policies of confrontation or containment. In the escalating strategic rivalry between the US and China, the EU is not eager to take side, without being disinclined to hedge and balance to deal with some troubling traits of the rise of China and its increasingly assertive behaviour.
About the Panelists
Prof. Frank N. Pieke is Professor of Modern China Studies at Leiden University, and has served as Director and CEO of the Mercator Institute for China Studies. He studied Cultural Anthropology and Chinese Studies at the University of Amsterdam and the University of California, Berkeley, where he received his Ph.D. in 1992. His current research revolves around the impact of China on the Netherlands and the EU, foreign immigrant groups in China and the transformation of Chinese Communist Party. His most recent books are The Good Communist (2009) and Knowing China (2016), both published by Cambridge University Press. Recently, Prof. Pieke contributed an ICS occasional paper entitled "China Through European Eyes".
Dr. Andrew Small is Senior Transatlantic Fellow with German Marshall Fund's Asia Program, which he established in 2006. His research focuses on U.S.–China relations, Europe–China relations, Chinese policy in South Asia, and broader developments in China's foreign and economic policy. His articles and papers have been published in The New York Times, Foreign Affairs, Foreign Policy, the Washington Quarterly, among others. He is the author of the book The China-Pakistan Axis: Asia's New Geopolitics published with Hurst / Oxford University Press in 2015. Small was educated at Balliol College, University of Oxford.
Dr. Mareike Ohlberg is a Senior Fellow in the German Marshall Fund's Asia Program and co-leads the Stockholm China Forum. She has been the An Wang postdoctoral fellow at Harvard University's Fairbank Center for Chinese Studies and a postdoctoral fellow at Shih-Hsin University in Taipei. She is co-author of the book Hidden Hand: How the Communist Party of China is Reshaping the World (2020). Mareike has a doctoral degree in Chinese studies from the University of Heidelberg and a master's degree in East Asian regional studies from Columbia University.
Dr. Garima Mohan is a Fellow with the German Marshall Fund's Asia Program. Based in GMF's Berlin office, she focuses on European policy in Asia, Indian foreign and security policy, and maritime security in the Indo-Pacific. Garima holds a PhD from the Freie Universität Berlin and received her master's degree from the London School of Economics. She is also a non-resident fellow at Carnegie India, an Asian Forum for Global Governance Fellow, and a 2017 Raisina Young Fellow. She has previously worked with the Global Public Policy Institute and EU's Asia-Pacific Research and Advice Network .