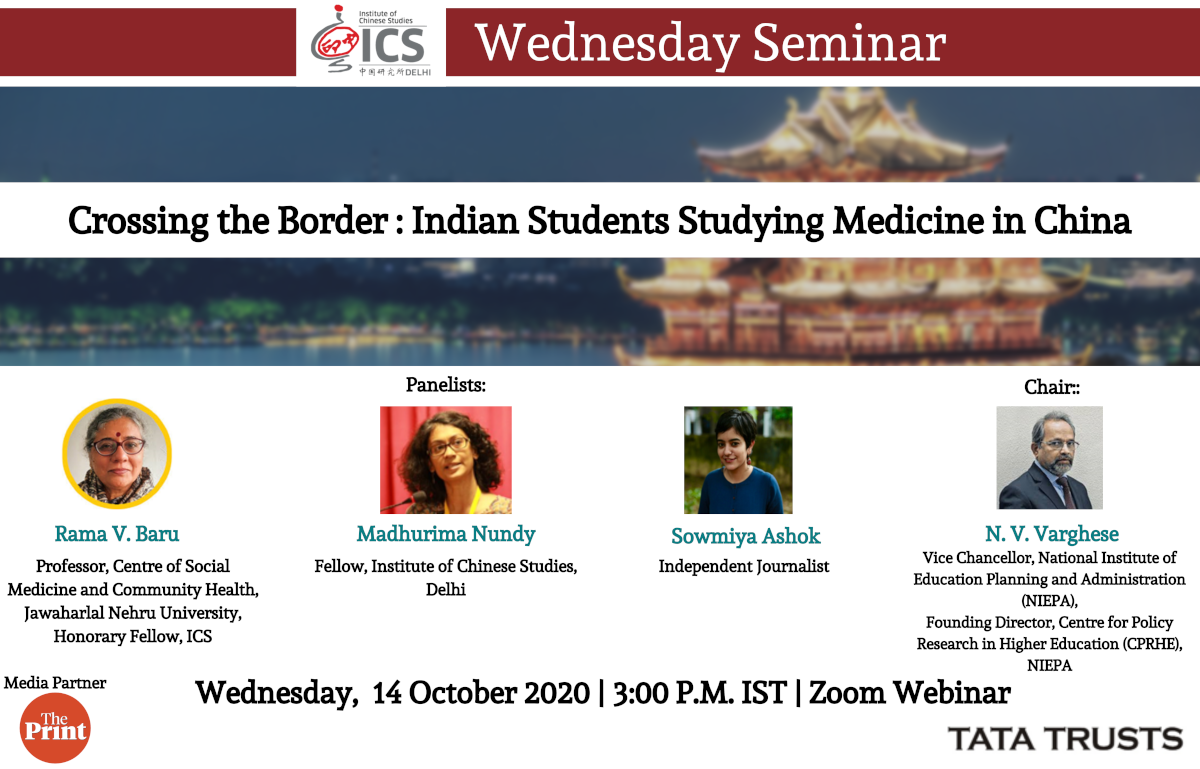 Abstract
The mobility of Indian students travelling abroad for professional higher education has been on the rise since the early 2000s. The favoured destinations have been the US, Canada, Europe and Australia. However, in recent years China has been one of the top non-English speaking countries where students are going for higher education, mostly for undergraduate medical courses. The talk will focus on the pull and push factors of Indian students travelling to China for an undergraduate course in medicine, based on interviews conducted with Indian students, faculty and government representatives in China.
It will attempt to understand: the students' experiences and expectations; the structure of medical education in China; specific challenges and barriers that students confront in China and on their return. The results show that the larger phenomenon is the commercialisation of medical education in both India and China, which is fraught with challenges. There are several actors -governmental and non-governmental - involved in this process, which is largely market-driven and has implications for the future of the students who are presently studying and those who will be pursuing medicine in the coming years.While the field research was conducted in pre-COVID times (2018-19), it would be imperative to understand the impact of student mobility in a post-COVID situation and in light of recent developments in India-China relations– for students who are mid-way with their courses and the new aspirants who wish to study medicine in China.
About the Panelists
Rama V. Baru is Professor at the Centre of Social Medicine and Community Health, Jawaharlal Nehru University, and an Honorary Fellow, Institute of Chinese Studies, Delhi, India. She is also an Honorary Professor at the India Studies Centre, Central China Normal University, Wuhan, China. Her major areas of research interest include commercialisation of health services, infectious diseases, comparative health systems and health inequalities. She has several books and publications to her name.
Madhurima Nundy is Fellow at the Institute of Chinese Studies (ICS), Delhi, India. She completed her PhD in Public Health from the Centre of Social Medicine and Community Health, Jawaharlal Nehru University, New Delhi. Her areas of interest include health service systems, health policies, comparative health systems and inequalities in health. She has several publications and has been a regular contributor to policy analysis in the area of public health in China and India. Her most recent publication by Routledge (with Rama V. Baru) is titled Commercialisation of Medical Care in China: Changing Landscapes (2020).
Sowmiya Ashok is an independent journalist based in Chennai, India. She has previously reported from Beijing and Delhi for The Indian Express. She has been a political reporter for The Hindu and has written for several other Indian and international publications. She is a graduate of the political reporting program for working journalists at the Columbia Journalism School, New York, where she received an M.A. in Politics and Global Affairs. She writes about politics, environment, migration, tech and China.