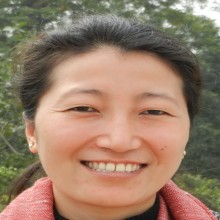 Tshering Chonzom Bhutia is Associate Fellow at the Institute of Chinese Studies. She holds a PhD in Chinese Studies from the School of International Studies, Jawaharlal Nehru University, India. Her thesis was an attempt at generating knowledge on the dynamics of the Sino-Tibetan conflict in engendering a sustained impasse by using negotiation theory as an analytical tool. In 2007, she spent a month in Taiwan where she attended lectures on Taiwanese culture, society, economy and polity. Recently, she was awarded an ICSSR grant to undertake a comparative study of Indian and Chinese ethnic minority policies. She is also associated with the 'China-India-Nepal Trilateral Cooperation'.
She speaks and writes regularly on Sino-Tibetan issues. Some of her writings have appeared in the publications of the Institute of Chinese Studies, Indian Council of World Affairs and the Institute of Peace and Conflict Studies. Among others, she has published in China Report, Hindustan Times, World Focus and Phayul.

She also has a rich work experience including research, editing and programme coordination. Her last stint as Programme Coordinator for the Heinrich Böll Foundation's programme on 'Democracy and Conflict' in India lasted for about four and a half years. Prior to that, she was Programme Coordinator, Assistant Editor and Assistant Fellow at the Indian Institute of Dalit Studies. Her first work assignment was with the Institute of Peace and Conflict Studies as a Research Officer in charge of its China Desk. Simultaneously, she was the founding member and Editor of the magazine 'Tibetan World' for a period of more than a year.
To her credit, she has designed and developed the website of the Centre for East Asian Studies, SIS, JNU, her alma mater. She is also a proud recipient of the 'Best Researcher Award' from the same Centre in 2008.